Poodle skirts were more than just a defining fashion stable in the 1950s, they were the product of an end-of-war culture shift that swept the nation. During WWII, in the 1940s, there really wasn't fashion among the general populace. Clothing was made with cheap, minimal fabric due to rationing and America was just trying to make it through the war. At the end of the war, the ration ended and it opened up new doors for the economy, fashion, and was the beginning of a consumer driven culture.
Once the economy started to improve, the fashion industry used the opportunity to showcase more fabric, pleats, and plush petticoats to fill out colorful skirts, what we now know as poodle skirts. What started as a movement to celebrate the end of a war turned in to a defining trait of the American culture. Excess.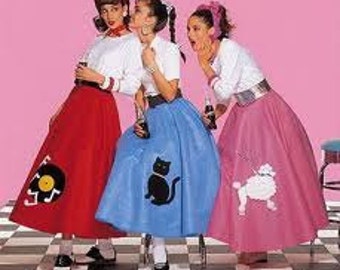 San Jose Dancewear encourages customers and dancers to come by and rent or buy one of these iconic costumes to honor and celebrate a pivotal point in our history, as well as the fun fashion choices that women made in the revolutionary era.  Whether you need a costume for Halloween, a dance routine, or a school play, come pick out a variety of skirts, shoes, hair ribbons, makeup, belts, and shirts to complete your outfit!