There is more to getting good sound from a tap than to strap a piece of metal to the bottom, read below for some tips and tricks to get the best sound for your dance style.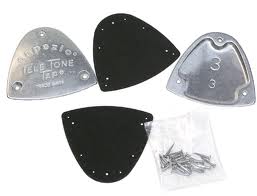 There are many parameters to getting a good sound in the tap world, but let's start with the size of the taps. You can get small taps or taps that are so big they stick out from the sides of your shoe, it all depends on your preference and the size/width of your foot. Another important variable is the tap material itself. For example, Capezio has Tele-Tone tips that produce a a moderate tone, whereas SoDanca's sharp convex tap produces a high and bright sound.
Now that you've picked out the type and size of your tap, it's time to discuss maintaining your sound. Loose screws in a tap can be annoying and produce poor quality sounds. There are a couple of options available to help you keep your taps in place so you can spend more time tapping, and less time tightening. First, get a sound board. Despite what the name indicates, the sound board doesn't actually affect the sound of your tap very noticeably. It does, however, help keep those screws in place. If you don't want a sound board or you just want an extra measure to keep your tap on, try using wood glue in the stripped hole where the screws are placed.
These are only a few tips to help you get the best sound from your tap shoes, watch for more information on the SJ Dancewear blog on how to care for tap shoes in the next few weeks!