It's that time of year again, try outs for the 49ers Gold Rush cheerleaders are just around the corner! If you are planning to try out this year, make sure you come prepared and look your best with all of the supplies and necessities that San Jose Dancewear has to offer.
With over 1,000 women trying out every year to join the prestigious team, you need to stand out when it's your chance to shine, and we can help you do just that. Make sure your shoes are appropriate and aren't distracting, you don't want flashy heals taking away from your performance, instead try discreet jazz shoes or a similar style. We offer brands such as Capezio to service your every shoe need.
Don't just stop at the perfect shoes, make sure your makeup is in top shape before you make your first impression. We provide customers with professional makeup from companies such as Kryolan and Ben Nye to help you look your best and feel as confident as ever. And don't forget the two-piece leotard, a requirement for cheerleader tryouts.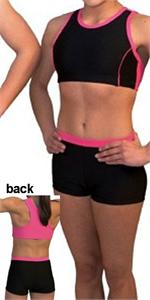 We offer much more than just shoes and makeup at San Jose Dancewear, come by and check out the immense variety of dance costumes, wigs, accessories, and much more so you can stand out at your 49ers Gold Rush audition. Good luck, ladies!