You've been dreaming about this moment since you were a little girl and the time has finally come to see if you have what it takes to make the 49ers Gold Rush Team. San Jose Dancewear has put together a list of tips to help you nail your cheerleader tryout and be on your way to fulfilling the goal you've been working toward for years.
Mark your calendar: The date for the 2015-2016 Gold Rush tryouts have not yet been posted, but once they are, mark your calendar and find out the agenda for each day. Tryouts typically take place over the course of a few days and include different dance styles, freestyle, interviews, and other requirements.
Study the squad: Watch videos of past squad performances so you can get an idea of the style they are after.
Nail their look: Most 49ers cheerleaders have long hair, so don't cut it short right before your performance! Check out how the squad wears their makeup. Do they sport team colors, try for a natural approach, or opt for a glamorous style? Get Kryolan or Ben Nye makeup at San Jose Dancewear to make sure you are only using the best of the best.
Plan your outfits: Pick clothes that will stick out in judges' minds, but not by being too revealing. Stick with the same color scheme, if you wear purple today, wear purple tomorrow and judges will remember you easier. Don't forget to wear a mandatory two-piece leotard, we carry a huge variety!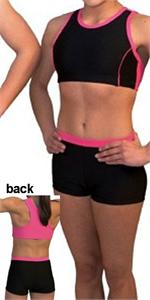 With these few tips, San Jose Dancewear's selection of apparel and makeup, and your talent, you are a true Gold Rush contender.